Want to exercise at home, how to build a home gym?
It's hard to close your heart, and it's even harder to find a flat belly. Can't you put your stomach in your pants?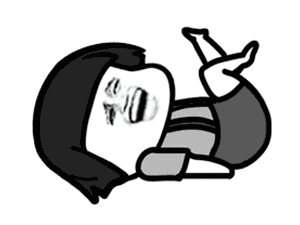 If I want to go out for a run or make an appointment for a personal training exercise, I feel like I'm faltering, getting up late, being too lazy to go out in the rain, or having an appointment with a friend, all of a sudden a bunch of excuses come out. I always think about exercising tomorrow, but after one day, the road to the gym is so difficult.
It is better to create an exclusive fitness area at home, and you can exercise as soon as you get home, and there is no excuse to delay. Then I will introduce to you that as long as you move out 2 square meters, the home fitness area will be completed immediately , allowing you to overcome 100% of lazy and procrastination. Symptoms, and actively get rid of the New Year's oil hoarding.
01 Yoga Zone
It doesn't matter if there is no fitness area planned at home, the easiest way is to use a yoga mat
In particular, the area for yoga is not limited. Generally, the size of the yoga mat is 65×175cm , and it can be used in less than 1.5 square meters of space.
In the living room, just lift the table and put on a yoga mat and you're ready to exercise.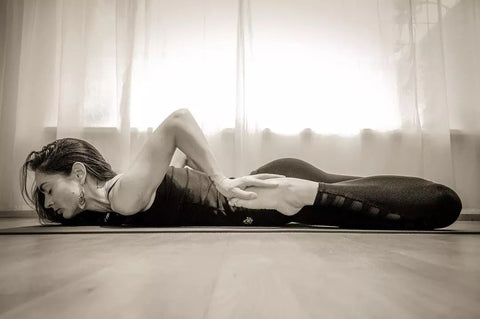 Karlie Kloss, the supermodel who has served as a Victoria's Secret Angel, is also a person who loves sports, and often shoots fashion blockbusters for sports brands. What she does most often is yoga. She is not limited by space at any time, and can also do it by the window.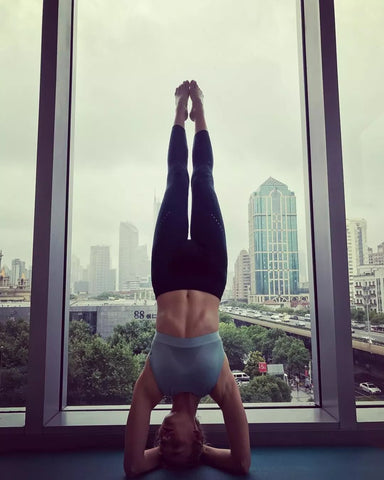 Arrange to do yoga by the window, exercise under the sun bathing, there is a kind of tranquil atmosphere, feel the comfort of body and mind.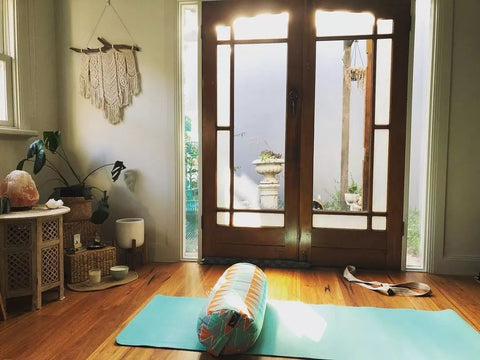 If you have a balcony in your home, you can't let go of this wonderful space, with sunlight and natural greenery, exercising in such an environment makes you feel as if you are one with the outdoors.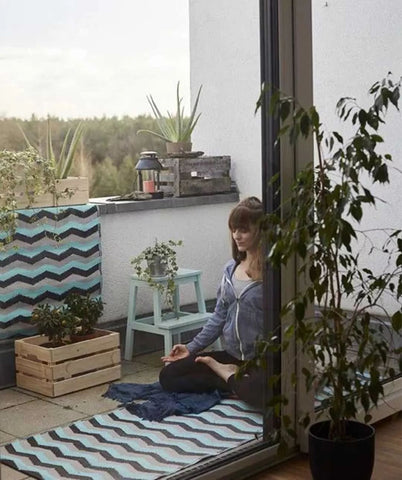 You can also use the open study room and make good use of the open ground to do yoga at any time. Don't say that you are too lazy to exercise.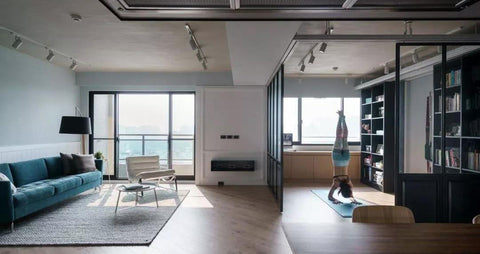 A quiet bedroom has always been the best choice for yoga. You can exercise at any time by the bed, by the window, or even against the wall, returning to the feeling of being one with your body.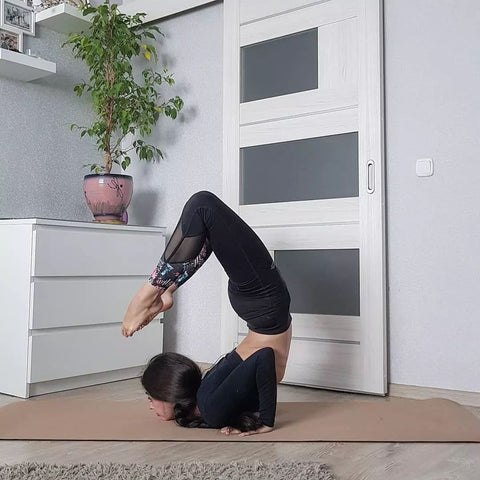 With a large mirror, you can better check your movements, body shape and lines.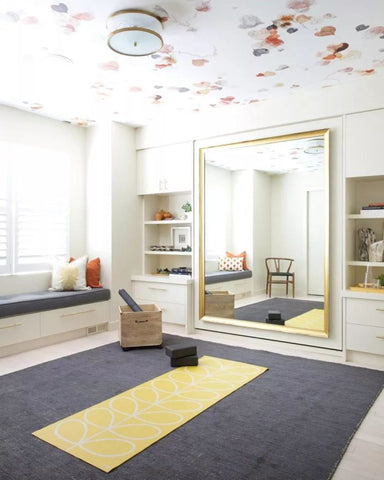 Adding a pole in front of the mirror can also practice BARRE.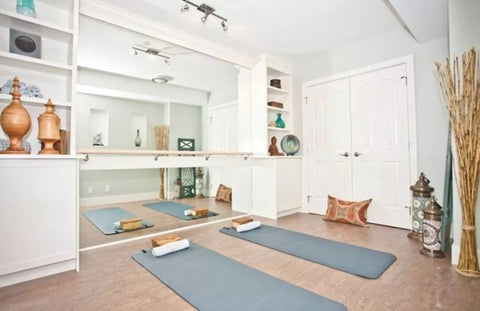 For more advanced yoga learning, you might as well install hanging rings on the ceiling and add a curtain to create a practice area for aerial yoga.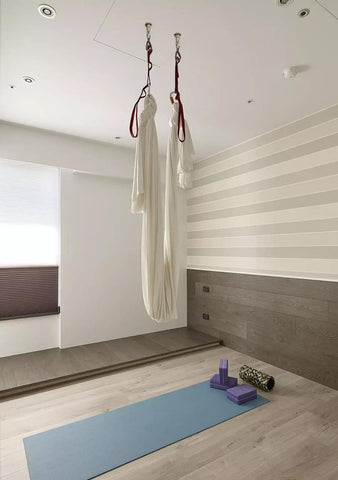 TIPS:
If you want to exercise at any time, you have to put your sports equipment in the most conspicuous place to remind yourself all the time. Like a yoga mat, you might as well put it in a round basket and use it right away.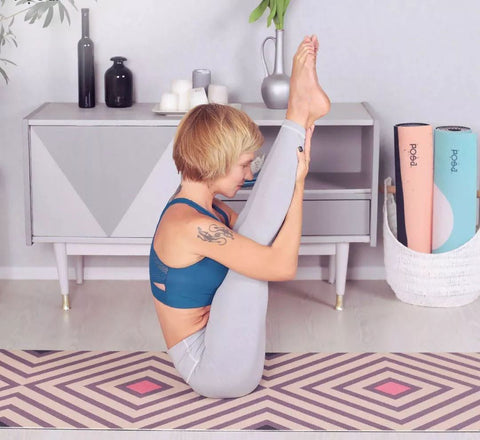 Paired with an antique carved vase, it is not abrupt to put a yoga mat on.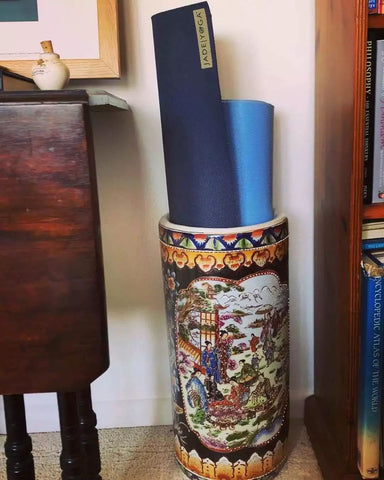 Using the hook, plus a beautiful strap, is also pleasing to the eye.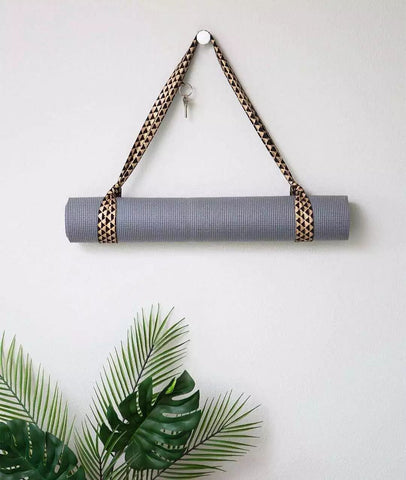 If there are auxiliary equipment such as yoga bricks and telescopic belts, you can also use the wall shelf for storage, which saves space without landing, and hanging on the wall also makes the wall more lively and energetic.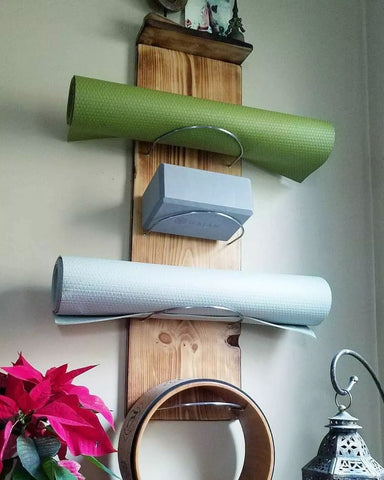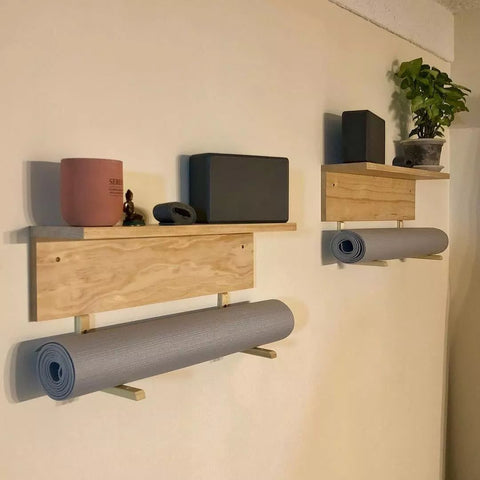 02 Treadmill and bicycle area
Treadmills and bicycles are commonly used equipment for girls to lose weight. They are simple and easy to use and will not be affected by outdoor weather. Even if it is cold, rainy, and PM2.5 strikes, there is no reason not to exercise.
Treadmills and bicycles are larger models and usually need to be placed in a certain space without affecting other family members. Therefore , it is best to place them in an open living room or balcony , which is relatively wide and unobstructed by family members.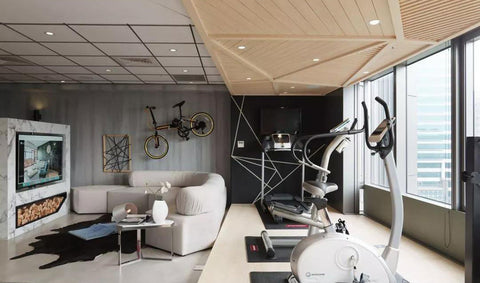 The position of the front window has a particularly wide field of vision, and it will not be boring to run or ride a bicycle while looking at the scenery .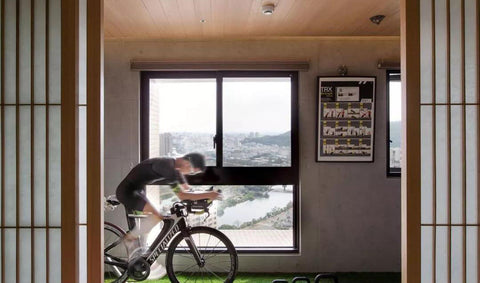 It is recommended to raise the floor in the area where the machine is placed , and divide it into a special sports area, which can also reduce the impact of vibration during running on the family.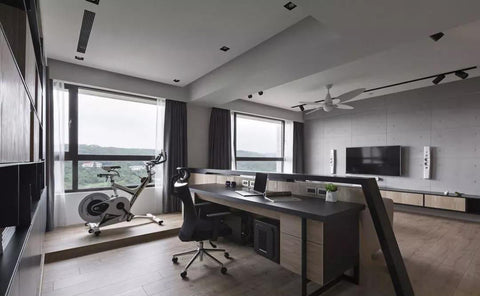 If the bedroom is large enough, you might as well set aside a 2-square-meter corner, put a bicycle machine, install a shelf on the wall, store towels, skip ropes, and even a storage area for running shoes. If the equipment is fully arranged, you can immediately jump on the bicycle for exercise.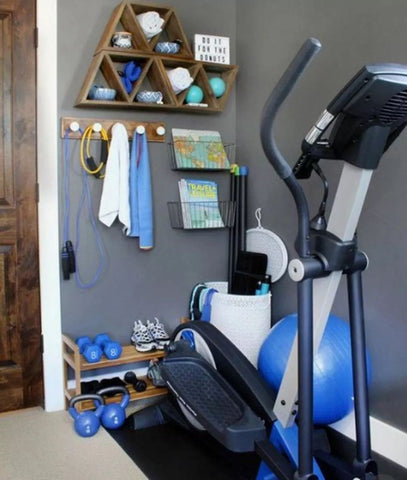 Post exercise records on the wall, observe your fitness, and even put up slogans to motivate yourself.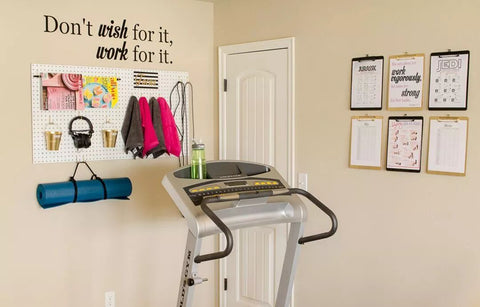 Even better is to build an exclusive gym, TV and audio are also indispensable. While running and listening to music, the visual and auditory can be satisfied, and the monotony of running and cycling can be relieved.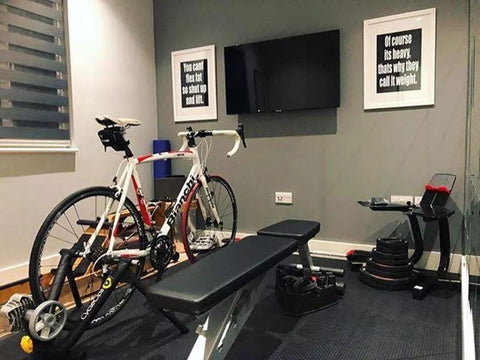 Most people don't have enough space in their homes, what should they do?
It's better to use a single-panel treadmill, put it under the desk to exercise , and exercise while playing games and surfing the Internet. Isn't it very inspirational!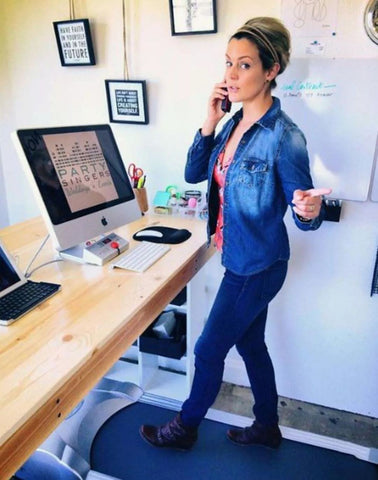 The chair is removed and replaced by a treadmill, spinning, jumping, and the movement is non-stop.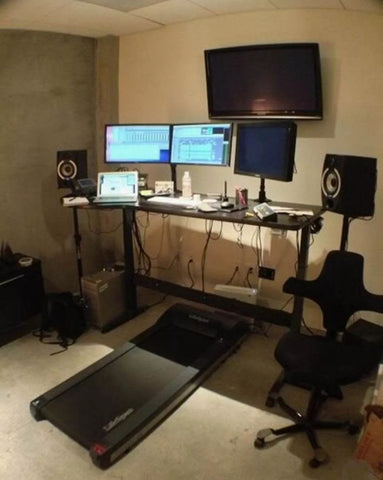 Or use a foldable treadmill and tailor-made cabinets for storage , which can also be neatly stored without taking up space.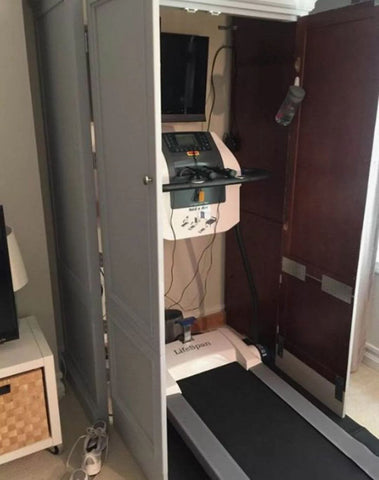 03 Hanging bar, resistance rope area
Installing a U-shaped suspension bar on the ceiling can perform weight training for pull-ups. It is quite simple to install and does not take up too much space. It can be used in living rooms and corridors .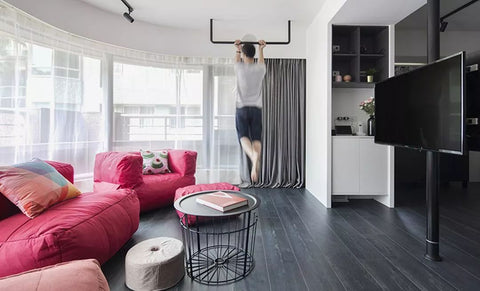 Like the two horizontal bars on the ceiling, they are not obtrusive when they are located at high places. When you want to exercise, you can pull them. Boys will definitely love them.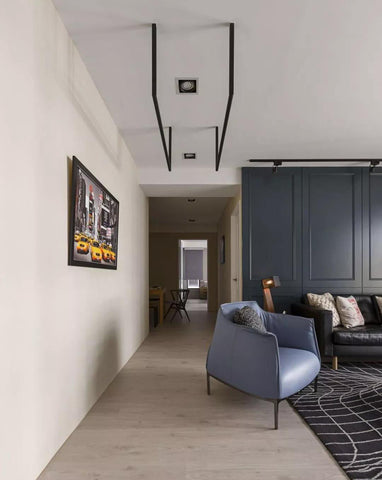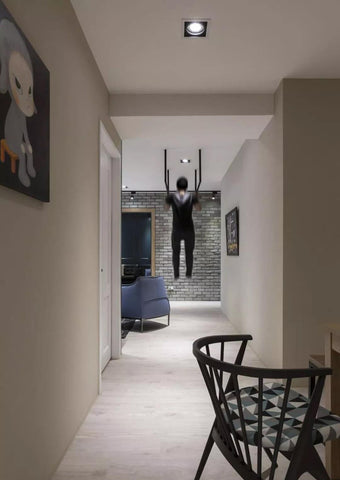 The wrought-iron suspension bar is matched with the industrial-style ceiling , not only is it not obtrusive, but it is quite integrated into it. It is also installed on the side of the TV wall, and it can be used with a resistance rope.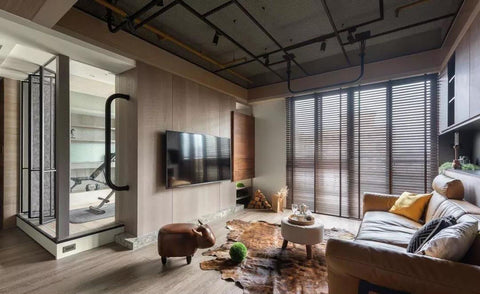 Put a few more bars and challenge your physical limit.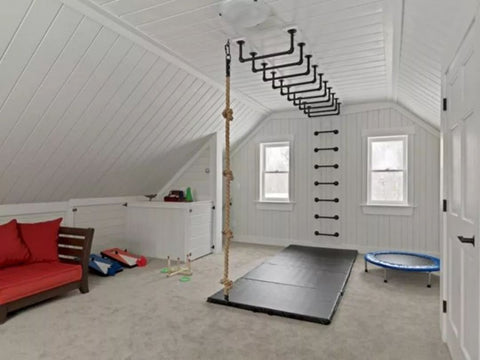 If you want to make it easier, you can install a hanging ring on the ceiling or wall, and match it with a resistance rope, and you can do TRX resistance training.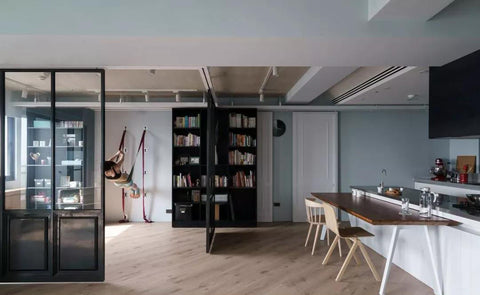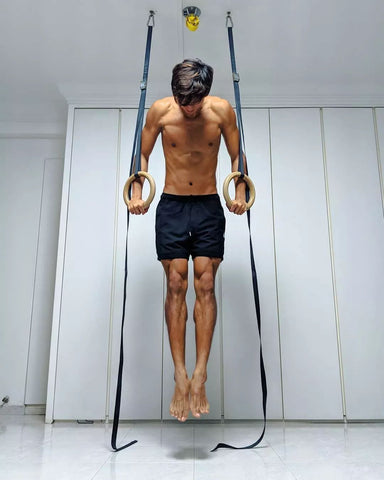 It only needs 1 square meter of wall to do it, and the flexibility of the space is quite large, whether it is a TV wall or a corridor wall.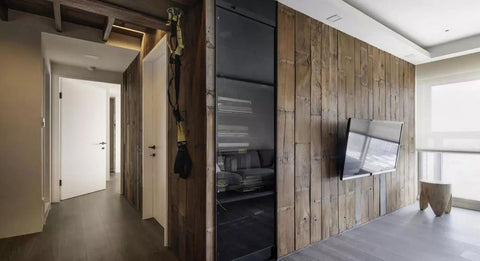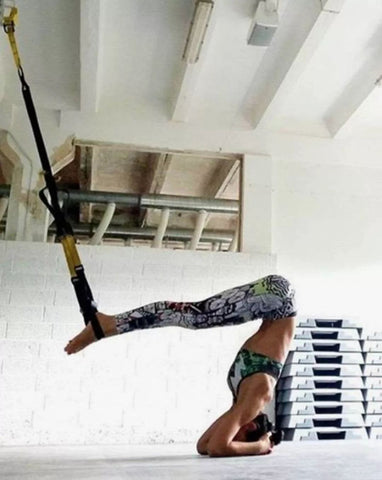 If it is a relatively simple TRX training rope, even the hanging ring can be used without installing it. You can use the door to press the training rope. For example, the bedroom is a good place to exercise.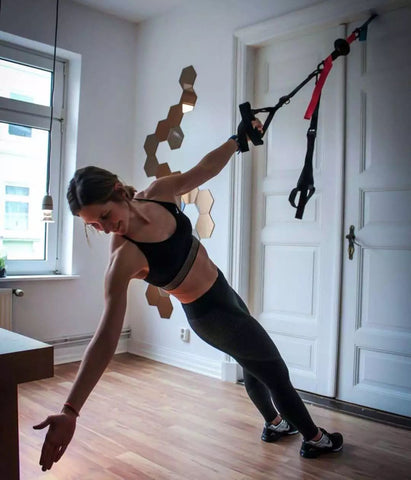 04 Multifunctional fitness area
Severe fitness freaks must have a lot of training equipment, so they might as well create a dedicated fitness area, like moving out of a small corner of the study, put barbells and dumbbells, and when you are tired from work, you can change your mood at any time.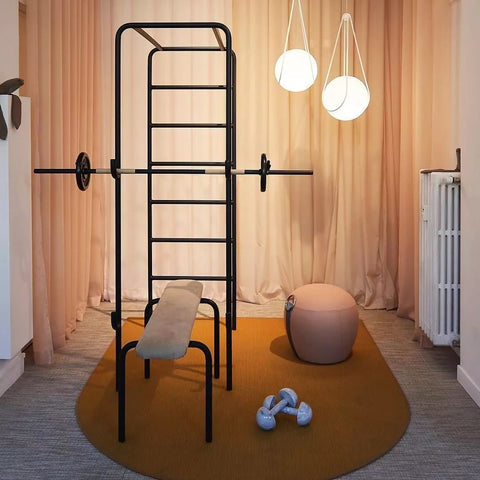 Or set up a separate room for fitness use and put huge equipment, presumably boys and friends will be reluctant to leave when they come here.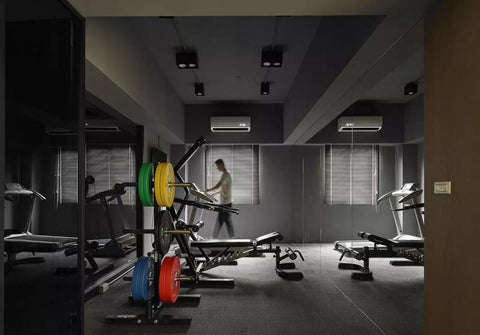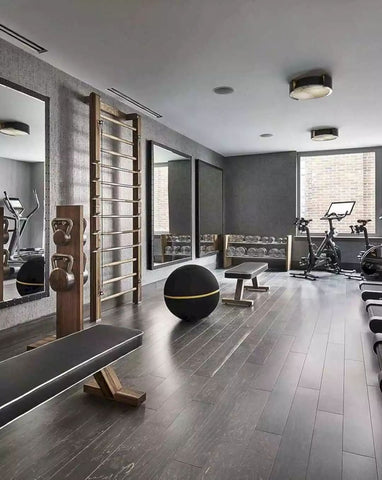 Even if it's just a small room, it can make boys sweat hard.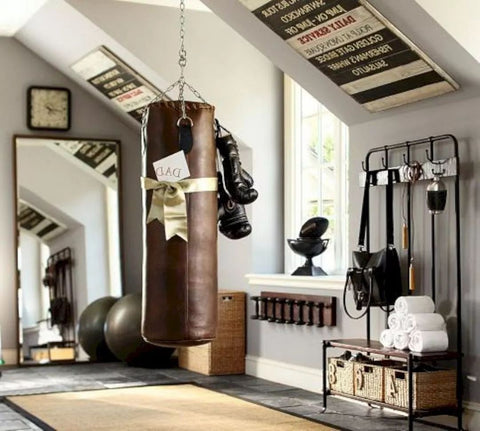 If there are heavy auxiliary equipment such as barbells and dumbbells, it is recommended to cover the floor with rubber pads to protect the floor. If you accidentally slip the dumbbells to the ground, it also has multiple functions of shock resistance, sound absorption and floor protection.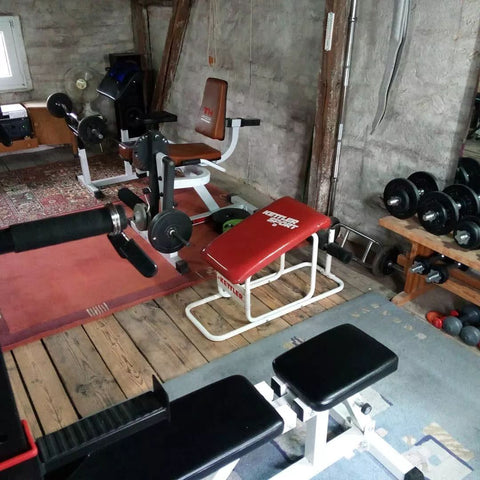 In this case, the entire floor is used as a gym, especially with thick rubber mats on the ground to prevent the sound of using the equipment from being transmitted downstairs.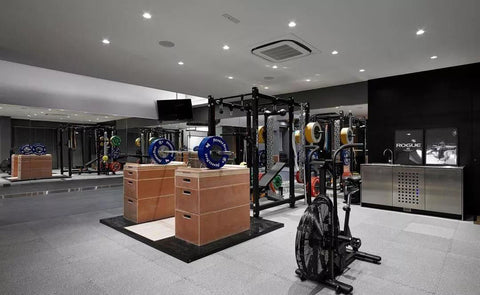 TIPS:
Equipment such as yoga balls, dumbbells, skipping ropes and other equipment at home should not be placed on the ground. It is the most convenient to hang them on the wall.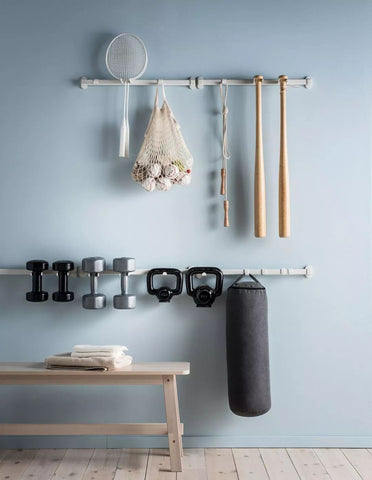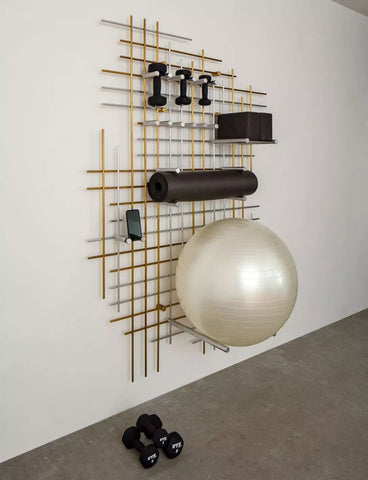 At this time, the peg board is particularly easy to use. It can be stored using hooks, shelves, yoga mats, and resistance ropes.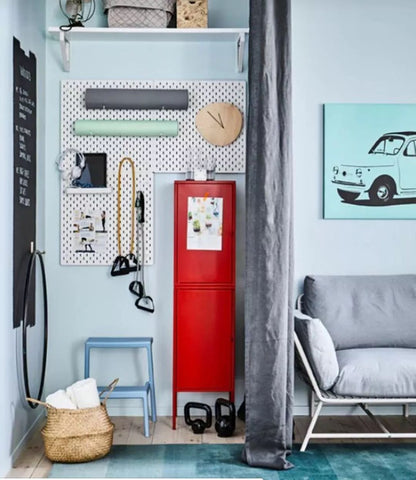 The mobile dining cart, which is usually used to put tableware, is also very suitable for holding kettlebells and dumbbells. When you want to use it, you can move it to any place in the house without having to carry it hard. Isn't it very convenient!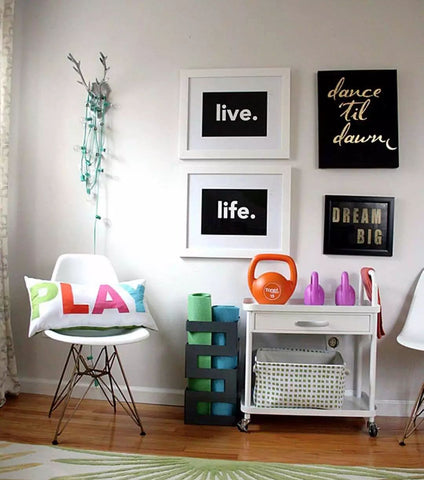 After reading these home gym cases, isn't it very inspiring, don't use the excuse of not having time to exercise!