Impressive fabric resistance bands
If you are looking for a way to help adjust your hips, arms and thighs, the fabric resistance band should be your secret weapon.
Effective and reasonably priced, the modest resistance band may seem less intimate than other exercise equipment, but it can add some vitality to your home or gym exercise.
The function of the fabric resistance band is to keep your muscles under constant tension to stimulate muscle growth. Whether you are new to resistance band training or experienced professionals, the FitBeast fabric resistance bands set will impress you.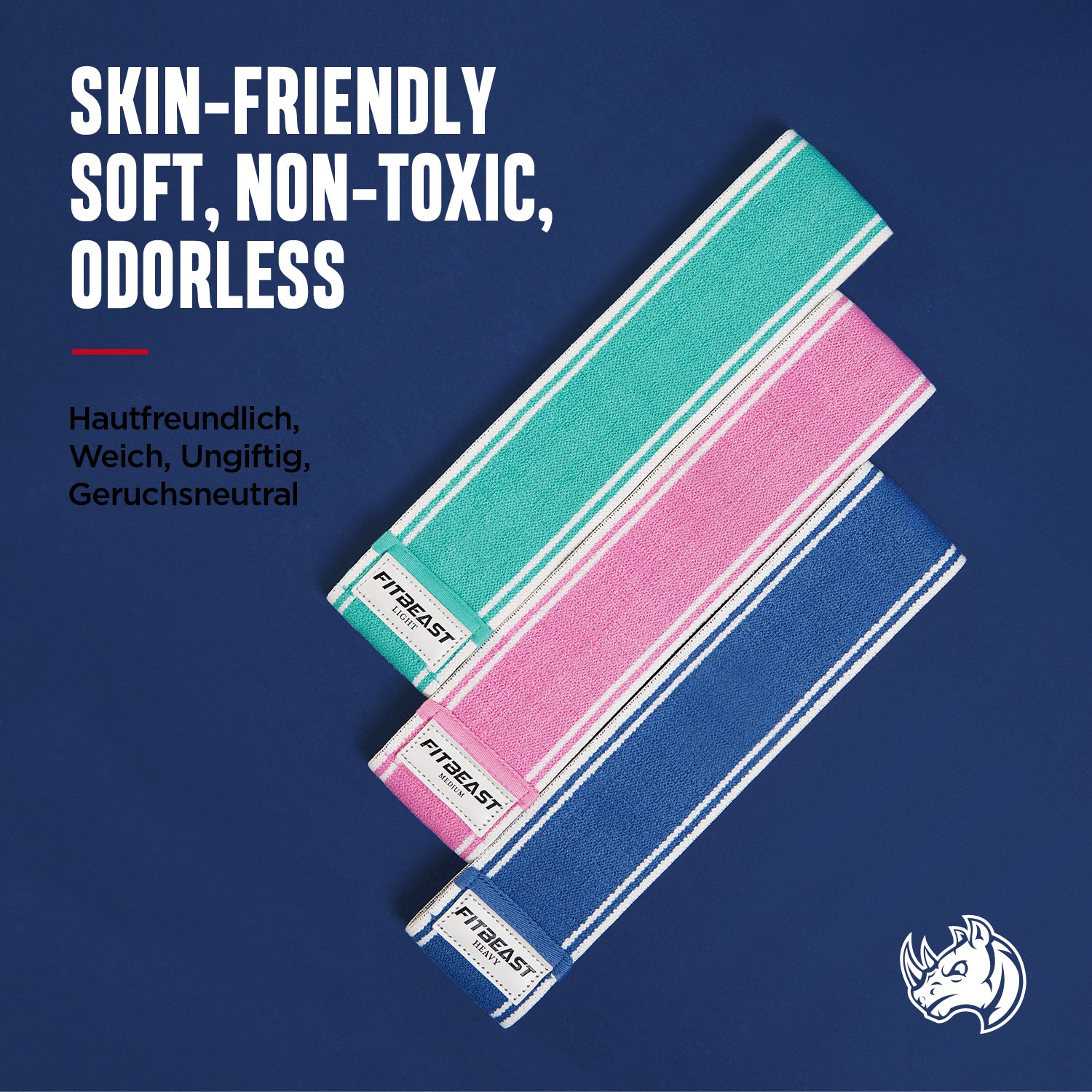 If you want to improve your physique and endurance, resistance bands such as FitBeast fabric resistance bands are a great training tool.
The three combinations include light, medium and heavy fabric resistance bands, so they can be used and customized at all fitness levels. Use them alone to target specific areas, such as your glutes or thighs, or incorporate them into standard exercises to change your resistance and make them more difficult.
Why FitBeast Fabric Resistance Bands is Different From Others?
1. Non-slip, Durable & Comfortable Design
The fabric resistance band is sewn with soft thick polyester and stretch latex silk. Features an inner layer with three non-slip latex wire that keeps the exercise bands steady and prevents any slipping or rolling during workouts. Non-slip, comfortable, durable, and elasticity are far better than traditional fitness bands made of latex or rubber.
2.Three Different Resistance Levels
3 Colour coded hip bands with same size for tailored workouts. Light(15-25lbs), Medium(25-35lbs) and Heavy(40-50lbs). Provides more flexibility and more options for your exercise at different intensity levels. Whether you are a beginner or an experienced user, you can easily customize the training according to your strength, ability and comfort.
3.Multi-Function
The resistance bands for women can activate and sculpt all parts of the hips, arm and legs, abdomen, etc. The different training modes of the workout bands can make your whole body stronger. Anyone looking to increase mobility or muscle stamina and strength can use these glute band, as they are used routinely by Personal Trainer and Physical Therapist.
4.Lightweight & Portable
These fabric resistance bands set come with a travel pouch for easy carrying. No matter where you are traveling, at home, gym, etc. You can also take it with you on the way in the office, vacation, etc., or squat down anytime while watching TV at home. Besides, supplied a 60In (150cm) tape measure, you can observe the changes of your body more intuitively after a period of training.
5.Professional Training Tutorials, Professional After-Sales Service
Exceed your fitness goals with our professional exercise tutorials and training poster. Making our training bands becoming ultimate exercise equipment for home use. Besides, we provide you professional after-service. Any problems in using the product, we will help you solve it within 24 hours.